A Crude Bench Saw is a building used to process logs and planks into other resources. The crude bench saw is more efficient at making these items than an axe but not as efficient as a Bench Saw.
When placing the blueprint for this building, the following area must be cleared of all objects, items, and buildings, except for the required Simple Flooring:
solid  
input
output
You can construct a

 Crude Bench Saw by adding the following to its blueprint:
Products
Edit
See also Crude Bench Saw Usage
The following items can be made with a crude bench saw: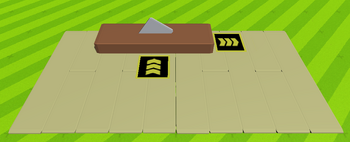 When the crude bench saw was originally introduced in Version 1 "Anon", the name of this building was simply called a Bench Saw. There also was no stone in its blueprint recipe. The name changed to be a Crude Bench Saw in Version 2 ("Abby").
Decoration Buildings

 Totem

Food Buildings

 Butter Churn •  Cauldron •  Crude Oven •  Kitchen Table •  Porridge Pot •  Threshing Machine •  Windmill

Miscellaneous Buildings

 Basic Millinery Bench •  Clay Furnace •  Clay Station •  Clothes Line •  Crude Kiln •  Crude Mortar Mixer •  Crude Wash Tub •  Rocking Chair •  Spinning Wheel •  String Maker

Research Buildings
Special Buildings

 Crude Brick Hut •  Crude Hut •  Incinerator •  Recycler •  Worker Assembler

Storage Buildings

 Compost Bin •  General Storage •  Milk Storage •  Sand Storage •  Seedling Tray •  Water Storage •  Worker Storage

Wall / Floor Buildings

 Brick Wall •  Bridge •  Crude Brick Wall •  Door •  Dry Stone Wall •  Fencing •  Gate •  Stone Arch •  Stone Path •  Window

Workshop Buildings

 Basic Workbench •  Bench Saw •  Crude Bench Saw •  Metal Workbench •  Simple Flooring •  Wood Router